With technology, we are creating things that are unweildly to name. We have web sites that are more like apps but their not just web apps. We have mobile apps that connect to a greater system so they're more than just mobile apps. We have desktop software that is more than the bytes on your computer. There are laptops that don't just go on your lap, devices that are hard to categorize but easier to use. Galvanize is one of those things. It's a coworking space that is more than just a coworking space.
Galvanize Boulder is not a coworking space. It's a 'colearning location' or a 'tech ecosystem'.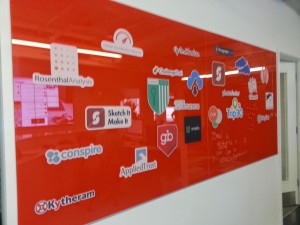 This was brought my attention by Emilie Kintner, the Community Director for Galvanize Boulder. Thanks to this bit of semantics, she offered me a tour of Galvanize Boulder. Being just a guy with a blog and a dream I immediately said yes.
Galvanize Boulder is just west of the Pearl Street Mall and the block surrounding it is very… Boulder. Walking to Galvanize from the parking garage I passed a nice looking Italian restaurant with an arcade hiding beneath it. Next to that is a coffee shop, a marijuana dispensary, a tequila bistro and a community cafe. I'm sure if I continued walking I'd find another coffee shop, another dispensary and a Tiva store with no less than 5 Subarus parked outside.
Unlike Galvanize in Denver, Galvanize Boulder is not it's own building. It's on the 5th floor of the Westend Plaza Building and it's much smaller than its Denver counterpart. It still has the same open feel and the first thing that really hit me was how quiet it is. I'm sure when you read about the Colorado startup scene, it's all about meetups, hackathons, kegs and celebrations but it's important to remember that behind all that is a lot of work. Most of the time, it's 1-12 people working their asses off to make those celebrations worth it. It's a nice thing to be surrounded by. I would have loved to have an atmosphere like this when I started my business.
Rebecca Bowden gave me my tour of Galvanize Boulder and it took all of about 10 minutes if that. The open working area is filled with people wearing headphones working adamantly at their laptops. There is a small kitchen with free coffee, water and a keg-erator. The rentable desks are on the east side of the large room with the open tables on the west side with a nice balcony looking west at the mountains. The suites surround most of the big room and the main conference room is on the north side with an orange 'whiteboard' listing upcoming events.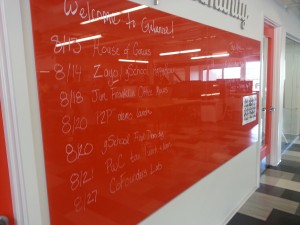 The community is the real reason for places like Galvanize. Sitting here, working along side other dreamers is neat, but it's the community aspect of it that makes places like this somewhere I want to be. If you want to know more, contact Emilie or Rebecca and they can tell you all about it. They were nice enough to let me hang out there and pretend I belong there. 🙂
3 quirks about Galvanize Boulder:
The men's restroom has no urinals, so for one brief moment I was terrified that I had walked into the wrong restroom.
The reason no one in the open space has their back to the mountains isn't just because it's a nice view, it's because the glare from outside reflects on your screen.
Pay attention to where the AC vents are in the open room. They work great. You may need a jacket.