The biggest reason for my website, my blog and my Colorado Tech Weekly posts is to get noticed by influential people in the Colorado technology community. So how excited am I that my name was included in a BuiltinColorado list of "50 Colorado tech CEOs, founders, designers & hackers you should follow on Twitter"? I'm SUPER excited! It's an honor to be mentioned in the same article as true leaders in the Colorado tech community such as Brad Feld, JB Holston, Elaine Feeney and Cara Jo. The other 45 people on the list are pretty fantastic too.
You can find the entire list of 50 Colorado tech CEOs, founders, designers & hackers you should follow on Twitter on BuiltinColorado.com.
You can always find me on Twitter as @scottpantall. Seriously, I spend entirely too much time there.
If 50 influential Colorado tech Twitter accounts make you think "This is a nice start, but I want more," check out my Colorado Tech Twitter list with over 2,000 Twitter accounts that represent the people, companies and organizations that make up the Colorado technology community.
Being acknowledged is pretty awesome… and pretty intimidating
It feels really good to be acknowledged! However I'm not the type of person to stop and celebrate when I receive a compliment. In fact I have the exact opposite reaction. My first thought is usually "Am I worthy of this compliment?" For the past 87 weeks, I've been happily dancing along sharing news, trying out projects and generally just being excited to be a part of the Colorado tech community. Being noticed makes me react like Paul McCartney dancing away at his seat at the Grammys…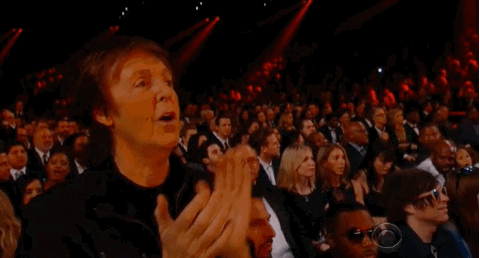 As soon as Sir Paul McCartney noticed that he was getting attention, his reaction was to sit back down and try to blend in with the crowd. That is exactly how I felt when I saw that I was getting recognition.
I shouldn't try to blend in though. I've worked to be noticed. I should celebrate it and use it to my advantage. Half of my plan to get work as a software developer is actually working!! Now I just need to focus more on the other half of my plan: learn how to write, and show off, awesome code.