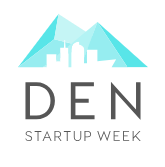 Denver Startup Week is an aptly named week long convention about startups and technology in Denver, Colorado. Two of the coolest things about Denver Startup Week is that it's free to attend and it takes place in different locations throughout downtown Denver. 2018 was the first year I was able to participate in Denver Startup Week. I have watched through social media in previous years but I was never able to go because I worked as a 911 dispatcher and never felt it was a good use of my limited vacation time since I wasn't working in the tech or startup industry. But this year in working for a tech startup with unlimited vacation time and coworkers that are open to collaboration and new ideas so I was excited to see what I could bring back to my team from Denver Startup Week.
Colorado, and Denver specifically, is growing by leaps and bounds. One of the things that makes me proud about our tech and startup community is the inclusion that we practice and it was great to see that attitude explicitly called out during the opening keynote and supported by the actions of other participants and by the panel on Thursday. Because my fear is that we will move away from that attitude as we grow so it's great to see that attitude reinforced during the biggest free startup conference in the world. (My Day 2 review can be found here)
Day 4
I started out Day 4 at 8am the Bovine Theater for an Improv Workshop for Developers and this sounds like the epitome of "ugh, really?" because it's improv at 8am… for developers. It sounds like a cringy setup for a sitcom episode. But it was SO GREAT! It was hosted by 2 people whose names I forgot but the woman in charge makes her living by doing improv poetry which instantly made her one of my heroes because anyone who can make a living by doing something that is creative and fulfilling to them is a hero of mine.
My favorite takeaway from this session is the importance of respecting the existence of imaginary objects both in improv and in writing code. An improv scene falls apart when one person pretends there's a table in the middle of the stage only to have another actor ignore the existence of that table. The same is true for code. If a developer defines an object and other developers do not use that object in ways that respect the original definition, the code is clunky and difficult to follow.
Now since this was my first Denver Startup Week, Monday was overwhelming and Tuesday and Wednesday were packed to the gills with panels so I decided to take it slow on Day 4. I took it so slow… (How slow?!) I took it so slow I only went to 2 panels. However I got to continue to wonder at all the positive changes to downtown Denver. I took some time to check out the trendy Milk Market for lunch which was very overwhelming and even stopped to check out an art gallery.
It is very important that inspiration is accepted from all sorts of places because inspiration is a funny thing and strikes at odd moments and affects you in unexpected ways. This is why many of the hardest programming problems are often solved while on a walk or in the shower or looking at art so I make a point to enjoy art both for just the pure enjoyment of it and for the inspiration it may provide. This installation was at the Robischon Gallery on Wazee Street in downtown Denver. The art has changed since Denver Startup Week but you should still check it out.
After taking my time and checking out a few sights I was allowed to hang out in the CTRL Collective co-working space before my last panel of Denver Startup Week which was about the stress of a startup. Since I now work at a startup, I thought this would be a great way to talk with other startup employees about the stresses of the industry. I was wrong. Instead it was a panel of startup founders talking about dealing with stress from the point of view of a founder which was still good to hear about. Since I have a bit of an entrepreneurial streak in me this was absolutely worth my time.
One of my favorite takeaways from this panel was from Finn Kelly when talking about imposter syndrome which is as prevalent among entrepreneurs as it is among software developers. Imposter Syndrome is when you feel like you don't belong in the industry or position that you want to be in because you feel like everyone else must know more than you. You feel like someone is going to unmask you as an imposter. Kelly's advise was that any time he feels that feeling he asks "Have I done something inauthentic to get here?" and if the answer is "No." then he is not an impostor! It's simple but I love it!
I also added a bunch of books to my "To-Read" list on GoodReads thanks to this panel. A lot of thinking about thinking goes into being a successful startup founder.
That was it for my 2018 Denver Startup Week. I bailed on Day 5 because my wife was off work that day and I'm mostly introverted so, after spending 4 days talking and listening to many people, I was ready to recharge. I hope I helped give some insight into a good Denver Startup Week experience and I look forward doing it again next year!
I am not participating in #DENStartupWeek today but since I've been doing daily recaps, lets look at my lessons from Day 4:
– When doing improv, you place pretend objects on a stage. When writing code, you place pretend objects in code. There's no difference.

— Scott Pantall (@scottpantall) September 28, 2018