Dev News Weekly is designed to give you (and me) 10 useful software/web developer stories every Tuesday morning!
I'm not usually one to quote Mother Teresa, but I like this quote a lot. I do have to admit to having ulterior motives with this newsletter though. If I keep this up, I'll soon learn which technologies I am most interested in. You would think that would be an easy thing for me to figure out, but it's surprisingly difficult.
Developer News
Pick of the Week
I needed to have something else in these posts besides my usual blathering and 10 news stories, so I will choose one thing each week to promote just because I like it.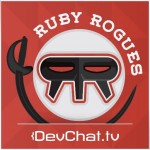 The Ruby Rogues podcast has quickly become one of my favorite programming podcasts! I started listening to it because I am teaching myself Ruby on Rails. This is not why you should listen to this podcast.
It's a weekly podcast that spends most of the time talking about issues that ALL programmers have, regardless of the language you code in. It's fun. You should give it a listen.
Thank you for reading!
If you know of any other good news sources for developers (especially newbies like me), please let me know!
You can subscribe to all my posts by email!